PATIENT SATISFACTION AND SUSTAINABLE BUSINESS GROWTH
"Life is a kind of Chess, in which we have often points to gain and competitors or adversaries to contend with, and in which there is a vast variety of good and ill events, that are, in some degree, the effect of prudence, or the want of it." – Benjamin Franklin
DENTAL BUSINESS DEVELOPMENT VERSATILITY
In this universally new aspect of the Digital Dental Industry, applying the correct BUSINESS MODEL is a crucial next step towards a strong and thriving practice. The digital landscape and leading-edge TECHNOLOGY has certainly boosted efficiency on all levels, however, the right personal experience will always matter in the dental industry.
Every office is different and has its own set of characteristics that make it stand out. Your business model is important and must apply ample human elements for efficient business development and patient satisfaction. Besides sales and service, team building and chemistry is important to our collective strategy. We empower you and your staff with the ability to benefit on all patient activity. From setting consultation appointments to closing treatment plans, we will work together and incorporate a fluid business model for your specific dental practice success. This also includes proper tracking and handling of patient activity, you're now sharp and focused BRAND continuously produces, so we can analyze data and always be a step ahead.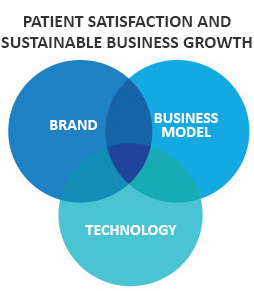 We'll help your dental practice staff come together as a unified team to create superior business operations, a terrific work atmosphere and happy life. It all starts with Positive Mental Attitude (PMA), then we add a little bit of FUN, and some easy training with proper steps and protocols your staff will embrace and exemplify.
Once your team is on the same page, you will begin to notice effortless production consistently. You will start to acquire the type of New, Life-Long Patients and their families you're looking for to cement your residual business for years to come. Your patients will tell others about your practice and you'll experience growth from word-of-mouth. More so, you and your staff will be happier, at work and outside of it.
Growing your Digital Dental Business and acquiring new imperative dental technology shouldn't be a burden. We excel at preparing, planning, executing, tracking and analyzing the correct plan for your specific goals. We track and evaluate ROI in the finest manner, providing consultative reports forever. Proving to launch your healthcare BUSINESS positively, immediately, and for years to come through our incomparable, and complete, DIGITAL DENTISTRY BUSINESS MODEL.
BREAKING BRED is the next step towards the answers you seek and will improve the quality of your digital dentistry. We help create seamless patient, administrative, and clinical proficiency that saves you, or provides you, much more time and works to refine repeat customer business while we perfect your business development. This allows you and your staff to concentrate on the tasks at hand and doing your best.
And, it's a lot more FUN acquiring all this new Dental Equipment imperative for present -day dentists & surgeons, when your new Brand & Business Model is generating more, and more, revenue perpetually! You will see the value for yourself through our proof of concept, by achieving these results, while our budding relationship continues positively.
We will consult, represent you, and help to provide you top-of-the-line Computer and Information Technology. Digital Programs, Software, Hardware and Digital Dental Equipment that's best for your needs. Including, World-Class Clinical Speech Recognition, Unequaled 3D Printers, CBCT 3D Imaging, Intra-Oral Scanning & Imaging, and Enhanced Oral Diagnostics, etc.
Now you can offer your desired treatment planning through the proper digital platform, producing faster, healthier and higher quality results for your patients, as well as generating revenue and establishing your business in the new digital era. Your dental company's worth increases forthwith.
The Dental Benefits of CBCT Machines
The Dental Advantages of Intraoral Scanners
Are you ready for a consultation?
Your caring abilities, hard earned credentials, entrepreneurial spirit and dreams should not be squandered by fear of change or what-ifs. Let's BREAK BRED and talk about your questions, goals, and solutions you seek. We are beside you and not finished until we all WIN.