Description
Meet the Philips SpeechOne
The most advanced wireless dictation headset in existence.
Keep your hands free with this ultra lightweight wireless microphone.
Reduce the fatigue that comes with holding a handheld recorder for an extended time period
Look through patient notes, scans, and files while dictating
Move freely without compromising recording quality
Experience dictation freedom with the SpeechOne headset.
Move up to 16 feet (4.9 meters) from your workstation while your recordings are transmitted to your computer
A voice prompt will notify you if you start to move beyond the wireless range
The innovative noise reduction filter ensures crystal clear recording, even in noisy environments
Record all day long with a 12-hour battery life
The ergonomic headset was created to ensure maximum comfort all day long.
As a medical or dental professional, you may be dictating or wearing the headset for several hours daily. The SpeechOne is designed with this mind.
Wear the headset in three different ways: on your head, off the ear, and with an attachable neck band
The 360 degree rotating boom and interchangeable ear cushion allows you to wear the SpeechOne on your right or left ear while keeping the microphone in an optimal position
Minimize sweat and ear pressure with a headband accessory that creates space over your temple
Antimicrobial surfaces keep your headset hygienic for clean working.
The antimicrobial additive applied to the microphone boom and remote control work against a wide range of different microorganisms, including bacteria, viruses, fungi, & algae
Exchangeable magnetic ear and head cushions lets each author keep their own personal set on shared devices
The small and innovative docking station provides wireless charging and easy pairing.
Snap the magnetic headset onto the dock for cordless, hassle-free, and reliable charging
The docking station pairs easily with your computer, which makes receiving your dictations more efficient than ever
Wireless SpeechOne Headset Product Highlights
Easy pairing for flexible use over multiple workstations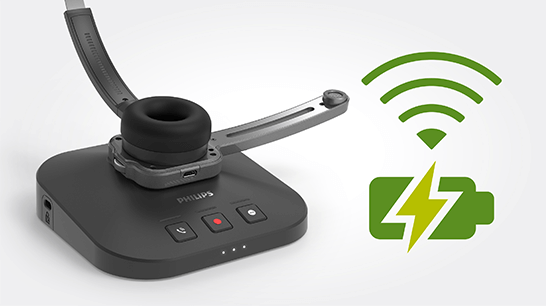 Wireless charging for added convenience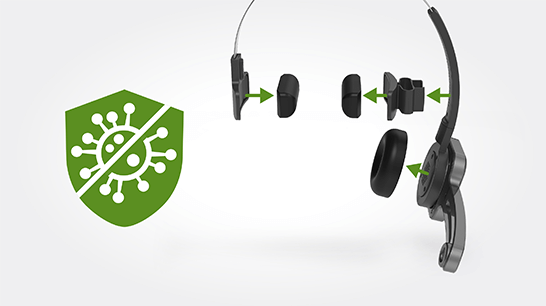 Status Light for reducing interruptions and increasing productivity
Full control over your dictations and Skype calls for added efficiency
Kensington security slot for theft protection
Optional ergonomic handheld remote to control recording and playback functions
12-hour battery life for continuous dictation all day long